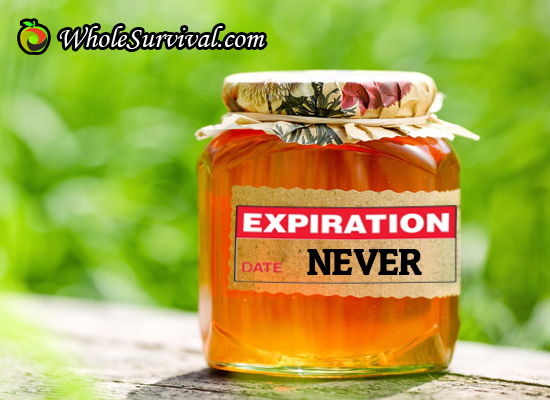 A large part of getting prepared is stocking your pantry with food. But if you have a large amount of food stored, it sometimes can get complicated keeping track what is going to expire when, and how best to rotate those items so nothing gets wasted. Fortunately, the food items listed in this article, will never go bad making their storage easier to deal with. Plus you don't have to worry about buying too much when a sale comes around.
Of course, proper storing is important as well, so unless stated otherwise, the best way to preserve any of these foods is to keep it in a cool dark place with as little temperature fluctuations possible. Lose of taste is normal when food is stored for long periods, but it doesn't mean that it is unsafe to eat.
You will also notice that many of these items are either very sugary, salty, or dry (having little moisture). Bacteria have a tough time growing in any of these conditions.
Foods That Never Expire
Honey
Sugar
White Rice
While the bag or container of rice might be a bit dusty, the rice inside is perfectly fine to eat, basically forever. There are many kinds of rice out on the market nowadays, but this applies to only white, wild, arborio, jasmine and basmati rice. Brown rice has a higher oil content and will spoil over time. Make sure to store the rice in an airtight container to keep out any bugs which is the only reason that might come up to make it inedible.
Salt
Food That Will Expire . . Eventually
There are a few foods that although technically won't go bad or expire, they will eventually lose their flavor and/or nutrient value over time. They will last for years, but do have an expiration date.
Some of these include:
Dried spices
Beans
Tea leaves
Dried pasta
A good rule of thumb for foods that last a very long time on their own are:
Very salty food, (think anchovies)
Very sugary food and,
Foods stored in vinegar, also known as pickled.
Of course proper storage is key. A cool, dark place that has little temperature fluctuation is the best location to make your food last longer. If you can vacuum seal food in smaller packages, that would be ideal.
There are many products that can be stored for almost indefinitely if vacuumed sealed in Mylar with oxygen absorbers. Stuff like instant coffee and powdered milk for example, can last twenty years with no problem.
Canned goods as well can last for years, especially if the can is prevented from rusting by limiting it's exposure to air, for example by coating the entire can with wax.
There are many tricks to make lots of food last longer, but the primary list above was mainly to highlight those foods that on their own don't expire without much special preparation. It takes some of the guesswork out of setting up your long term pantry since you won't have to worry about buying too much of those expiration proof foods.